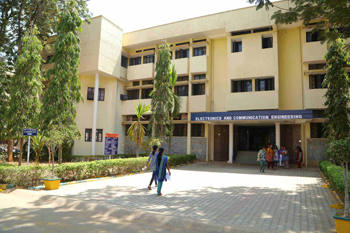 Electronics & Communication Engineering - HOD Message
Hod Message
Faculties
Circulars
Laboratory

Mr. G S YoganandaB.E, M.Tech,(Ph.D)

Associate Professor & Head of the Department,
Department of Electronics & Communication Engineering

Welcome to Kalpataru Institute of Technology.
Electronic communications engineering is the utilization of science and math applied to practical problems in the field of communications. Electronic communications engineers engage in research, design, development and testing of the electronic equipment used in various communications systems. It is due to electrical engineers that we enjoy such modern communication devices as cellular telephones, radios and television.

Electronics and electrical engineering degree programs with communication concentrations are typically offered from the bachelor's to the doctoral level. These programs prepare students for careers as systems engineers, research engineers, controls engineers, communication engineers and electronic engineers, as well as researchers and university professors. The programs are rigorous with an emphasis in math and science. As of May 2013, the U.S. Bureau of Labor Statistics (BLS) reported that electronics engineers, except computer engineers, had a mean annual wage of $97,870 (www.bls.gov). Employment of these engineers is expected to increase four percent in 2012-2022, according to projections from the BLS. This slower-than-average job growth is a result of declines in manufacturing; however, demand should arise in computer systems design as well as in research and development for new technologies.

We congratulate the parents for choosing our college for your ward. Our Electronics & communication engineering department has good facilities as mentioned in this website with state of art laboratories & qualified faculties. Dear parents we need your cooperation for making our college a model college. I request you to support us by guiding your wards to maintain regularity in their studies. I also request you to be in touch with the faculties/proctors. I appeal you to encourage your wards to participate in Placement & Training activities to improve their technical, Analytical, verbal, Aptitude & other skills, which makes them compete at Global level.