Library of Kalpataru Institute of Technology
The Library is housed in Administrative block occupies an area about 1500 square meters. The Library department comprises four sections Viz., Issue section, Reference section, Digital Library and Reading Hall. The reference section and reading hall can accommodate about 250 students at a time for studies. Our library has always been the brain of the engineering college which houses valuable information for reference and caters to the educational needs of users. The aim is to motivate and support the process of self learning. Our Library is extremely proud of itself on having more than 68,042 volumes of which about 13500 titles cover all disciplines in Science and Technology.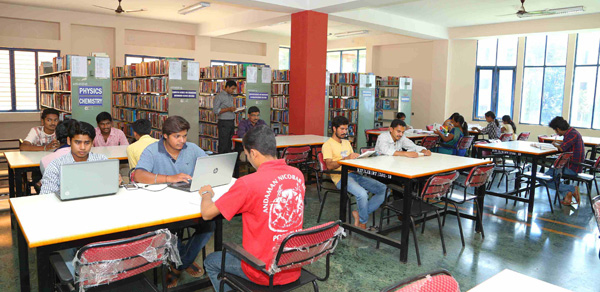 Library subscribes 57 technical journals in print form. Library is maintaining back volumes of more than 2330 since 1986 and student's projects for reference. Library is also subscribing e-consortium through VTU e-portal IEEE-ASPP-POP, Springer E-journals and E-books, Taylor and Francis Online, CRC Netbase, Elsevier Science Direct, ASCE e-journals, IET Digital Library, ProQuest Management Collection and Knimbus database. Users can access 24X7 in the campus.
Library is maintaining Digital repository using Dspace software. Digital Library is having more than 25 systems, each provided with internet connectivity. Our library is fully automated using LIBSOFT 10.0.0 and providing OPAC (Online Public Access Catalogue) services to the users. Collection of books databases is available through WEBOPAC module also. Users can search books using their member ID as login and password-library by default. The working hours of the library and Information centre is from 9.00 AM to 9.00 PM on all working days. Reading Hall functions 24 hours in a day. Library has taken the membership of DELNET and NAL. Library has created E-learning environment to use NPTEL, VTU E-learning, MIT etc to the maximum extent. Library Awareness Programme will be conducted to train the users.